How Do You Make Moving Home To North Center Easier?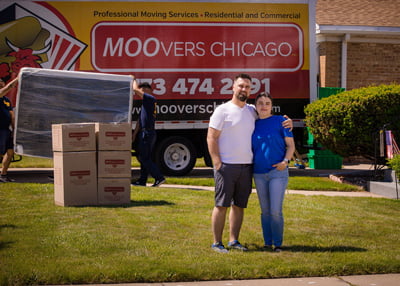 House hunting is something that can take time and patience to find the right place, and once you have signed the paperwork and you know that you'll be moving to North Center area, then its time to start thinking about the move and the movers. There are many weeks of preparation at least in the majority of cases, and it is important you use the time wisely as leaving it until the last minute is definitely not the best strategy! There are steps that you can take in advance of the move that will help you to make your next home move an easier and more pleasurable experience.
Get A Good Moving Company
One of the best things you can do for your home move is to get a professional and experienced movers / moving company like Moovers Chicago on your side and booked in for your home move to North Center. We've helped thousands of people to move over the years, and have the experience to deal with all kinds of home move, whether it's a condo, apartment or house move. We even help businesses when they need to change commercial premises too! We are proud of the reputation we've developed for the quality of service we provide, and you can see that we're accredited by the Better Business Bureau and there are reviews from some of our customers on their website.
Start Your Packing Early
This is definitely one of the best pieces of advice for anyone that is moving home, and the earlier that you can start packing your worldly possessions the easier your home move will be. Take time to look through each room in the weeks before the move, and pack all of the non-essentials, decorative items, toys, books and other such items so that they are boxed and labelled well in advance. If you're short of time around moving day, Moovers Chicago have a furniture packing service to protect larger items, and can also offer dis-assembly and installation of items like wardrobes and shelving units.
Plan The Services And Utilities You'll Need In Your New Home
When you're moving home, having internet access is probably one of the most important things to arrange in the modern world, and it can take time so book the required appointments before you actually complete the move. There are also steps to take such as meter readings and getting utilities activated for your new home, so make sure this is all planned out and you know what you'll need to do.
Getting Everything Done On Moving Day
If you're using Moovers Chicago, then this is a relatively straightforward day for you, as you will have most things done already. If moving yourself, make sure you start early, as it is often time consuming and heavy work when moving the larger furniture items. Once you have everything in to your new home in North Center, take a break for a drink and a snack, and then you can finally start enjoying unpacking and leaving your imprint on your new home.