10 Reasons To Choose Moovers Chicago For A Roscoe Village Home Move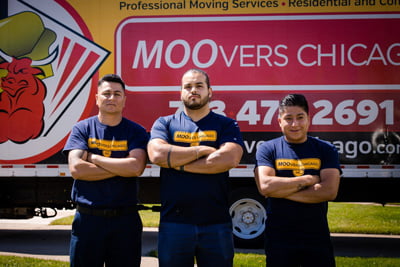 For those people who are looking to move home, but haven't yet found the right place, all of the work of packing is a distant prospect, but if you have just signed for a new place in Roscoe Village, it is really time to start thinking about the move and your movers. Moovers Chicago is the natural choice to handle all of the heavy lifting work on moving day, as we've helped hundreds of people across the Chicago area to move home more easily.
Peace Of Mind

By hiring Moovers Chicago you know that you'll have an experienced company on your side and this will give you the peace of mind knowing that everything on moving day will be handled for you by our professional team.

More Time To Focus On Other Aspects Of Your Move

By leaving the arrangements for moving day to us, this frees up more time for you to get all of the other administrative and packing work related to the home move completed. You will still likely be quite busy for these few weeks!

Excellent Service And Communication

All of our team pride ourselves on offering a high level of service and answering any questions as fully and clearly as possible, and we will keep you in touch with everything from your first call to us through to the completion of the move.

Transparent And Clear Pricing

There are no hidden charges when we prepare a quote for your home move, so you really can have faith in the quote we provide, and if you choose any of our supplementary services those are clearly priced too.

Professional Care For Your Worldly Goods

We all have things that have been with us for years, and for both sentimental and financially valuable items our teams will take very good care to make sure they arrive at your new Roscoe Village home in peak condition.

Furniture Wrapping Service Available

We can arrange for one of our team to visit your home on the day before the move to apply a protective wrapping for your furniture, so that they are protected and clean during the move.

Great Reputation

Moovers Chicago has developed an excellent online reputation over the years, being accredited by the Better Business Bureau, where you can see many great reviews from our satisfied customers.

Fully Licensed And Insured

We take great care in meeting all local government regulations and are fully licensed to work throughout Chicago and Illinois, as well as having all of the necessary liability insurances.

Dismantling And Installation Of Flat Pack Furniture

Flat pack furniture is best dismantled before transportation, so we can arrange for someone to do this for you the day before the move, and we can then install it in your new home for you too.

Additional Packaging Options Available

We can also rent you a TV box if you don't have the original packaging, and we can also provide wardrobe boxes to keep delicate clothes clean and safe during your home move.
Nearest Neighborhoods