Why Use Moovers Chicago For A Home Move To Wrigleyville?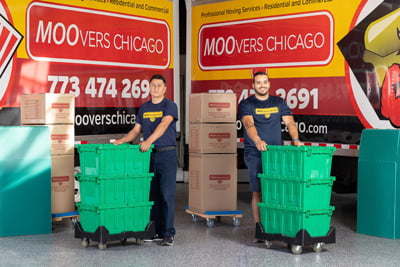 Moovers Chicago is one of the premier home and business moving companies in the Chicago area, and over the years over movers have helped so many people to move to new homes, both in Wrigleyville and across the Chicago area. There is a reason that we have been able to build up a strong reputation and business over the years, and that is because we aim to be the best in the business both for our efficiency and the level of service we provide. Once you've secured the new property, and know when it becomes available, calling us should be one of the first things that you do after that. Moovers Chicago is the premier movers for Wrigleyville.
Professional Care For Your Furniture And Possessions
One of the main reasons you should use Moovers Chicago for the home move to Wrigleyville is that you know that you will get a professional service to look after everything that is being moved to the new home. We have dealt with home moves from tiny apartments and condos all the way up to grand homes and even large commercial locations, and whatever type of home move service you need, we will take great care of everything along the way. All our teams have all the right training to handle everything safely, even the larger bulky items that might appear awkward to deal with.
Excellent Service And Support
We know how important it is to understand what is going on with your home move, so everyone at Moovers Chicago from the office team to the moving staff are keen to provide the best support. If you have any questions about the process or need help with something, give our office team a call and they will take great care to answer every aspect you need. On the day, our team leader that is looking after the move will keep you up to date with how everything is going.
Transparent And Clear Pricing For The Home Move And Additional Services
Most people will have been surprised by a hidden charge or a fee they weren't aware of, and it can be a source of great dissatisfaction and frustration. We don't believe in operating that way, and we will always be clear with you about what you will need to pay for our services. There are also additional services like furniture installation in the new home, and furniture wrapping before the move that we can offer. Again, the fees for these will be clearly highlighted so you can know exactly what to expect.
Less Stress And Pressure Preparing For Moving Day
By hiring Moovers Chicago for your home move to Wrigleyville, ultimately you can be comfortable that at least that element of the move is covered. You can attend to all of the packing work that you will have to do, and also arranging for all of the utilities and services to be moved over as well. When it comes to moving day, you can take a back seat and gather your energy, as once everything is in place in the new home, it is over to you to get everything unpacked and in its place in your new home.