Preparing For A Home Move To A New Place In Near North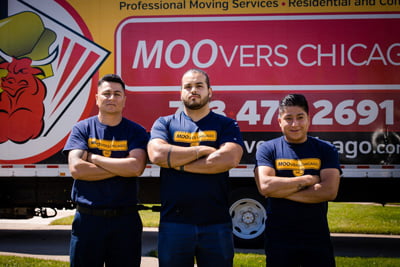 There are relatively few life events that can take over almost everything else for several months such as when you are moving home, and it can require an awful lot of work to achieve. Even if you have managed to find the right place and have signed the documents to secure that new home in the Near North area of Chicago, there is still plenty to think about before you actually get into your new home, like finding your movers. Make sure you give yourself plenty of time for everything, and try not to get discouraged as it will be worth it once you start to settle in to your new home. Moovers Chicago is the premier movers for the Near North.
Using Moovers Chicago For The Move
One of the big steps that you can take to make moving home to the Near North easier is to hire Moovers Chicago's movers, as we are a well established family run company. We have a wealth of experience from every different type of home and business move, and our team are happy to take some of the weight off your shoulders and make moving day a much easier experience for you. We take pride in offering a great customer service, and by having a good moving company on your side it will free up more of your time to complete everything else that you need to arrange as part of the move.
Planning Your Packing Strategy
Packing is probably one of the biggest things to take care of for a home move, and several weeks before the move you should start to move through all of the rooms in your home and get things started. Anything that isn't needed on a regular basis, or decorative and entertainment items like art and books should all be packed away and boxed well in advance of moving day. This will mean you have much less to pack at the end, while on that final day before moving day you should pack a box of essentials that you will open first on arrival at your new home, so you can have a few home comforts before unpacking properly.
Additional Services To Make The Move Easier
If you are short on time, have a lot of furniture or are busy with family in the build up to the home move, Moovers Chicago can help to get everything ready in other ways too. As some furniture needs to be flat packed for the move, we can arrange for someone to dismantle shelving and wardrobes, and then to re-assemble them on arrival in your new home. We can also arrange for one of our team to visit your home and apply a protective wrapping to furniture such as chairs and couches which might get a little grubby during a home move.
Moving Day To Near North
The first thing we do ask you to arrange on moving day is a suitable space for the Moovers Chicago truck to stop both at the property you are leaving and at your new home. Then our team can swiftly get to work at getting the truck loaded, and moving your furniture efficiently over to your new home. If you've used our assembly service, everything will then be assembled for you in your new Near North place. Then it is time for you to get to work, and get everything unpacked and start settling in.