10 Steps For A Smoother Home Move To Northfield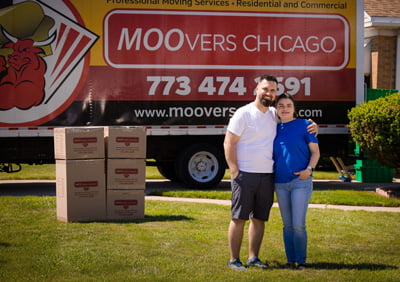 Anyone who has moved home one or more times will know how difficult and challenging it can be if you do the work yourself, and any ways to make it easier are always a welcome option. Here at Moovers Chicago our movers have helped hundreds of people to get to their new home with a minimum of fuss, and if you've just secured your new Northfield home then now is the time to get in touch. There is still plenty of other work that you will need to do, and in all likelihood you'll find that the weeks leading up to your home move are among the busiest you will experience ahead of this big life change. Moovers Chicago is the premier movers for Northfield.
Hire Moovers Chicago

Of course, we'd recommend that you have us on board so that you know that all of your possessions will be well cared for during the move, and that you can then turn your attention to all of the other aspects of the move.

Start Your Packing As Early As Possible

We all have far more things and possessions that we imagine, and especially once you've started boxing things that aren't essential, and you realize how much more there is to go, so getting an early start is a must.

Prepare For Hiccups Along The Way

Things won't always go smoothly, whether it is about the utilities or a change in the moving date. If you need to change with us, let us know with at least 72 hours notice, and we're happy to re-arrange our services for free.

Secure The Right Packaging Materials

Don't be cheap when getting your boxes, and make sure they're sturdy enough to survive the journey. Moovers Chicago can offer TV boxes and wardrobe boxes to help look after those delicate items if needed.

Think About Moving Utilities And Services To Your New Home

There is also lots of administration work to do with moving home, and sometimes these companies may need a home visit, so call them in advance and get appointments arranged if necessary.

Do You Need Support On Moving Day?

Moovers Chicago can help here too, and provide a service to dismantle furniture and then install it in your new home, or we can also offer a protective wrapping service as well.

Make Arrangements To Care For Children And Pets

Pets and children along with heavy bulky furniture being moved is not a good combination for safety, so arrange for them to stay with friends or family away from the heavy work of moving day.

Secure Parking For The Moving Truck

On the morning of the move, it is vital that you make sure there is space for the truck to stop if either property doesn't have its own driveway or private parking.

Ensure All Boxes Are Correctly Labelled

This will definitely help you on arrival, as not having to move the boxes around your new Northfield place will make unpacking easier.

Plan For Your First Night In Your New Home

Unpacking can be tiring work, so you may want to get some take out menus or get groceries for a simple dinner as you settle in to your new home.