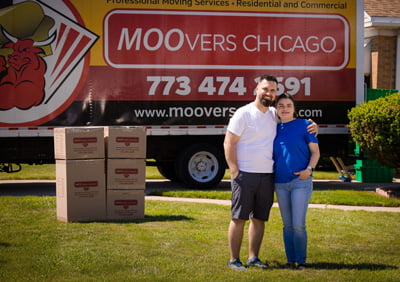 Relocating to Northfield
Northfield is a suburb of Chicago with a population of only around 8,000 and a median income of $160K. Northfield, in Cook County, is one of the best places for families to live in Illinois and offers residents a sparse suburban feel, amazing schools, outdoor activities, and decent commute into The Loop. Set yourself up for success in Northfield by making informed choices before you move. The easiest is choosing Moovers Chicago as your Northfield movers.
Real Estate in Northfield
The median home value is $744K with around 96% of residents owning their home; median property tax is $2,200. For the few who rent, the median rent is $2,500 / month (compared to the national average of $1,163).
Getting Around in Northfield
Like many suburbs, Northfield is relatively car dependent. With a Walk Scores ranging from between 39 to 72 (out of 100), some sections of Northfield are very walk-able, but others will require a car to run errands. In general, Northfield is bike-able with scores from 63 to 73 which means there is some infrastructure (i.e. bike lanes, etc.) for cyclists. Public transportation is relatively limited, as well. There is bus service, which can get you to the nearest Metra rail station in Winnetka for a 1.5 hour commute (one-way).
Things to do in Northfield
If you are looking for a place to play baseball, volleyball, soccer, basketball or tennis, look no further than Northfield parks. Some parks offer amenities including ice skating rinks, shelters and playgrounds across five parks. The Northfield Park District also hosts family-friendly events, dances and concerts throughout the year.
Favorite local eateries include Taco Nano, a Mexican Taqueria specializing in made-to-order tacos. The Happ Inn Bar & Grill is known for quality food, craft beers and an extensive wine list. Stormy's Tavern & Grille offers soups, salads, sandwiches and homemade desserts.
Nearest Neighborhoods
About Moovers Chicago
Moovers Chicago is a family-owned, professional moving company based in Chicago. We offer a range of services, including residential, commercial moving and storage services. We also have packing and unpacking services to further ease the burden of moving. No matter the size of the job, our first priority is to make your move as stress-free as possible.