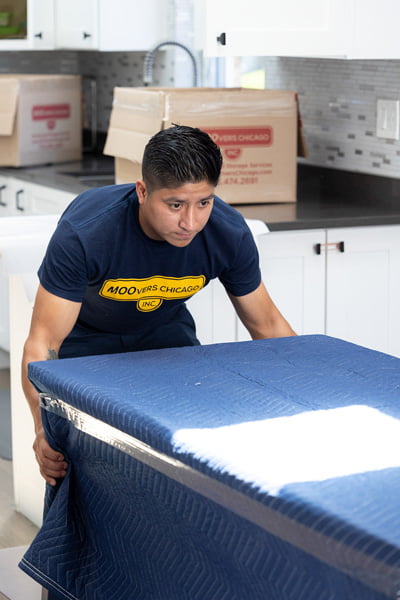 Relocating to River North
River North is a neighborhood in Chicago with a population of around 34,000 and a median income of $138K. River North, in Cook County, is one of the best places to live in Illinois and offers a dense urban environment with a great art & architecture scene, outdoor activities, and a minimal commute to The Loop. Set yourself up for success in River North by making informed choices before you move. The easiest is choosing Moovers Chicago as your River North movers.
Real Estate in River North
The median home value $460K with only around 32% of residents owning their home; median property tax is $2,700. For those who rent, the median rent is $2,200 / month (compared to the national average rent of $1,163).
Getting Around in River North
A car is definitely not a requirement for living in River North. With a Walk Score of 96, there is no requirement for a car for errands. A Bike score of 86 means it is very bike-able, with plenty of infrastructure (i.e. bike lines, etc.). Additionally River North has world-class public transportation.
Things to do in River North
River North is the go-to district for art and design lovers. The area has an array of fabulous art galleries and history-defining buildings like the "Corn Cobs" at Marina City and the 330 N. Wabash skyscraper by Mies van der Rohe. One of the neighborhood's most famous landmarks is theMART, which sits on the award-winning Chicago Riverwalk. Inside, wander through high-end interior design studios. Outside, be awed by Art on theMART, the world's largest video projection art installation that takes over the building's massive facade in the evenings.
Located along the Chicago River, River North has several water related activities, like boating and kayaking. There are plenty of rental places and tours so you can get to know the area. Adams Park is the place to go when the family needs to get outdoors without traveling far. This neighborhood park has a variety of activities in a small space, featuring a modern playground, sandpit, and spray feature for hot summer days. Rent out their multi-purpose room for your child's next birthday party, or check out their schedule of outdoor evening concerts during warmer months.
Nearest Neighborhoods
About Moovers Chicago
Moovers Chicago is a family-owned, professional moving company based in Chicago. We offer a range of services, including residential, commercial moving and storage services. We also have packing and unpacking services to further ease the burden of moving. No matter the size of the job, our first priority is to make your move as stress-free as possible.